Mary Blair Park
Mary Folsom Blair Park – Located off of Rt. 27 in Epping.
This park was established many years ago, after the land was donated to the town for outdoor recreational and educational use for the children and families of Epping! Mary Blair was a beloved teacher, who was one of the pioneers of the Nature's Classroom movement! She had a love for children, education and the great outdoors!
The park is the current home to EYAA baseball and softball programs in the Spring and Summer, complete with two diamonds, dugouts, batting cages, concession stand and bathroom facilities. The park also has picnic tables for public use, as well as a canoe launch and fishing area on the Lamprey River.
In 2012 – 2013, the Mary Blair Park Planning Committee was formed to make improvements to the park, including an addition of a Natural Playground and Historical Walking Trail. The Committee is in the process of completing phase 1 of the Natural Playground, with a web, rope climb, tire pass, chimney climb, balance beam, sand box and musical area. In 2016, the committee will start phase 2, to include the addition of two slides and outdoor amphitheater. Phase 3 will include new parking area and additional seating & trails.
The State Historical Walking Trail was completed in the Spring of 2013, with benches and historical signs about the dam and mill ruins on the site, completed by the Town historical society and state efforts.
The construction of the Natural Playground and Historical Trail was made possible by many volunteer hours given by MBP Planning Committee Members, local company donations, Lamprey River Advisory Committee grants and two large service days with Liberty Mutual Company and Timberland Company in the Spring of 2013! No Tax Dollars were spent on the recent additions to Mary Blair Park! All updates were made possible by donations and volunteers! We are currently working on plans to complete the slide & amphitheater projects at MBP, while working with the town Conservation Commission on improved parking options!
Directions to Mary Folsom Blair Park from Rt. 27: The park is located off of Rt. 27, heading towards Raymond on your Right hand side! The Road name is now Mary Blair Park Road, but used to be called Folsom Mill Rd. You will pass through a metal gate, which is the park entrance. The park is open from sunrise to sunset and is a carry in/ carry out facility!
Fox Run Park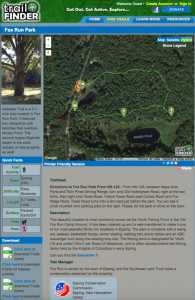 Located on Towle Rd. in Epping (Rd. Name Changed from High Rd.)
This beautiful location is most commonly known as the Youth Fishing Pond or the Old Fox Run Camp Ground. It has been cleaned up and well maintained to make it one of our most peaceful family fun locations in town! The park is complete with swing set, sea saw, new basketball hoops (on older existing court), picnic tables and an ABC scavenger hunt along the existing loop trail. The fishing pond is designated for Youth ONLY, per. Board of Selectman, and is often stocked before the fishing derby held by the Knights of Columbus in early Spring.
In 2012, the Recreation Department and Recreation Commission Members applied for two Large Corporate Service Days, one with Timberland Co. and one with Liberty Mutual Company. Both companies provided funds and manpower to clean and maintain this site that had become overgrown and unusable! The Recreation Department worked closely with Southeast Land Trust to comply with all easement requirements, placed on the property when it was donated to the town many years ago. The town Highway Dept. spent several days, clearing invasive plants and tree growth from the lawn and play areas, to make way for the service day work! We received company donations to purchase the basketball hoops, picnic tables and complete tree service work. In 2012, the Recreation Dept. began having the property mowed and properly maintained for year around community enjoyment! In the winter months, families clear the ice, when it is safe, for ice skating and hockey!
Directions to Fox Run Park From Rt. 125: From Rt. 125, between Napa Auto Parts and Twin Pines Driving Range, turn onto Old Nottingham Road, Right at forks, then Right onto Towle Road. Follow Towle Road past Comac Rd. and Fox Ridge Rd.(sharp corners so please drive SLOW). Towle Road turns into a dirt road just before the park area. You will see a small crushed rock parking area on the right. Please do not park or drive on the lawn! This park is a carry in /carry out facility! Please help us keep our parks beautiful!
https://www.trailfinder.info/trails/trail/fox-run-park
Outdoor Recreation Facilities
Contact Parks and Recreation Director at eppingrecreation@gmail.com if interested in being on the parent committee for a new preschool playground in town by the SAU!
Playgrounds: In addition to the Natural Playground at Mary Blair Park and play area at Fox Run, Epping Elementary School has just completed the construction of a brand new "state of the art" playground behind the Elementary School, located at 17 Prospect Street. The playground is open to the public after school and during non-school days, holidays and vacations. Please contact the school for more info.
A second preschool playground is also available behind the SAU building, located at 213 Main Street. This playground is open to the public during non preschool use times.
Outdoor Basketball & Tennis Courts:
Located at the corner of Cate Street and Main Street, across from Prescott Road, the town has one outdoor basketball court and one tennis court for community use.
The Tennis Courts received significant repairs during the summer 2014 and spring 2015 with all cracks filled and new top coat, new posts and net. Work was done to straighten the fence poles and replace all the wire in April 2015. Due to damage to the fence, the backboard was removed and will not be replaced at this time. We will be purchasing new benches for the tennis area. The Basketball Court had crack repair completed summer 2014 as well. One of the backboards was damaged, due to participants hanging on the hoop, causing damage to the welds in the supports. PLEASE DO NOT HANG ON THE HOOPS!!! The cost to replace these hoops is approx. $1,000 EACH! The basketball court was recently repaved, new hoops, and new backboards were installed in 2017 and we look to line the court in 2018.
Walking and Hiking Trials –
John B. Folsom Conservation Land – Located at the end of Joshua Ln., off Rt. 27.
This large conservation property has many trails that are great for walking, bike riding, skiing and snowshoeing. The land runs under the power line and along the rail trail system and lamprey river. This location was originally established for a residential neighborhood, before being given to the town. This location is carry in / carry out and is managed by the Epping Conservation Commission.
Directions to John B. Folsom Conservation Land – Follow Rt. 27, heading toward Raymond. Turn Left onto Joshua Ln., just after Ham Rd. on your right. Follow Joshua Ln. to end. There is a parking area and sign designating this conservation land for public use.
Conservation Land – There are many parcels of town owned land under conservation easement within the town of Epping for community enjoyment. We are working on a list, along with approved uses to be listed here soon.
Please note, not all "Open Space" land is town owned. Some land with this designation is still privately owned and may have restrictions on it's use by the public. Please contact the land owner for restrictions / use approval.
Access for Persons with Disabilities

Please contact the Parks & Recreation office directly for information regarding disability access needs at 603-679-3006.