Preschool Sports
Spring 2021 Preschool T-Ball
Our Pre- School Sports Program is a fun way to help your little ones start to develop listening skills, team work, and the basic rules of T-Ball.
We split them into two groups and rotate through skills (Throwing and Batting) and drills (Running Bases and Catching) and then a practice scrimmage.
At the end of our practice we do a fun parachute or large group game to promote team work.
See the Registration Form for More Info!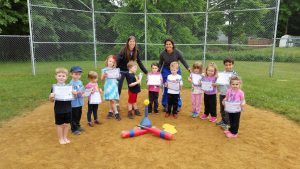 If you are looking for beginning and advanced team sports related programs for children ages 5+ please visit the Epping Youth Athletic Association (EYAA) website at www.eyaa.org