Preschool Books & Cooks Class
This hour long class will take place at Watson Academy. We will first have story time where we will read a childrens classic short story then create a small snack that relates to the theme of the book.
Preschool Art Class
Does your little one love to get messy? Come join us at the Epping Rec Department for a Preschool aged hour long art class. We will do a variety of projects over the course of the 4 weeks its a good way for your toddler to play and experiment.
Download a Registration Form Here PKS Art Class
Starting Tuesday March 20th 2018
Our Pre- School Sports Program is a fun way to help your little ones start to develop listening skills, team work, and the basic rules of soccer and t- ball. We split them into two groups and rotate through soccer skills and drills and then t-ball practice. The kids will practice ball control, shooting, and the basic rules of soccer. In our t-ball program they will learn how to bat, run the bases, throw, and catch. At the end of our practice we do a fun parachute or large group game to promote team work.
Fall AM Preschool Sports
Fridays September 15th-October 6th
(October 13th rain date)
Time: 9:15-10am
Cost: $20 for 4 , 45 min classes
Where: SAU Field (behind town tennis and basketball court)
Fall PM Preschool Sports
Mondays September 18th -October 16th
Time: 5:30-6:15pm
Cost: $20 for 4 , 45 min classes
Where: EES Field (before playground)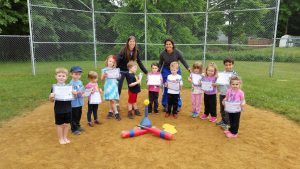 Click Here to Download your Registration form now !
Monday Nights Preschool TBall Registration
If you are looking for beginning and advanced team sports related programs for children ages 5+ please visit the Epping Youth Athletic Association (EYAA) website at www.eyaa.org