Story Discoveries @ Watson Academy Rec Center: Literacy based interactive programs for children ages 2-5 w/ accompanying adult. Join us for songs, stories and hands-on activities at 10:00 on Tuesdays. Starting with songs and finger plays to help participants feel comfortable and included, Miss Tracie will read two picture books which introduce the children to a topic that is relevant to their experience in the world. Following the stories will be a fun project using a variety of art media, giving the child something to take home which will hopefully inspire further investigation and discussion of the topic. These projects can be messy, so although aprons will be available, washable play clothes are recommended. There will also be age appropriate puzzles for the preschoolers to explore as they complete their project. "Miss Tracie" Wilkins has over 25 years of experience as an early childhood educator, having worked in preschool, kindergarten, children's museum and public library settings.
Ages: 2-5
Day: Tuesdays (ongoing)
Time: 10am-11AM
Cost: $30 for 6 classes or $6.00 drop in per week
Where: Watson Academy (17 Academy St. -Recreation Center)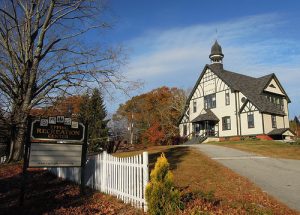 Our Pre- School Sports Program is a fun way to help your little ones start to develop listening skills, team work, and the basic rules of soccer and t- ball. We split them into two groups and rotate through soccer skills and drills and then t-ball practice. The kids will practice ball control, shooting, and the basic rules of soccer. In our t-ball program they will learn how to bat, run the bases, throw, and catch. At the end of our practice we do a fun parachute or large group game to promote team work.
Fall AM Preschool Sports
Fridays September 15th-October 6th
(October 13th rain date)
Time: 9:15-10am
Cost: $20 for 4 , 45 min classes
Where: SAU Field (behind town tennis and basketball court)
Fall PM Preschool Sports
Mondays September 18th -October 16th
Time: 5:30-6:15pm
Cost: $20 for 4 , 45 min classes
Where: EES Field (before playground)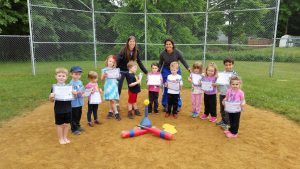 Click Here to Download your Registration form now !
Monday Nights
Preschool Sports Reg fall 2017
Friday Mornings
If you are looking for beginning and advanced team sports related programs for children ages 5+ please visit the Epping Youth Athletic Association (EYAA) website at www.eyaa.org